Home
›
ShaderMap News
Version 2.0.6 Released
The latest release of ShaderMap 2 brings fixes and new features like the dynamic plane geometry and FBX support. See a full list below:
Download it here:
http://shadermap.com/downloads
2.0.6 Changes
Bug Fixes:
* Crash on delete brush due to improper position saved
* Crash on delete material due to improper position saved
* Crash when adding normal map to N brush without displacement
* Painting N Brush on 16 bit maps resulted in improperly culled strokes
* Memory leak when canceling map rendering on source images
* Crash when deleting materials from a project
* 16 bit PSD with alpha have their alpha set to black making them invisible. Error in DevIL loader. Created temporary workaround.
* Accidental mirroring of mesh on OBJ import
New Features:
* Select material when it is assigned / dragged to subset
* Select applied material when clicking on model subset with material.
* Store and save last selected material per geometry type
* Expand edges on normal source map - added alpha threshold property.
* Keyboard shortcuts for tools
* Add dynamic plane geometry - Scales to ratio of image first map found in material
* Override plugin's default save file format in options - per map
* Drag material to all subsets on mesh instance. Hold 'SHIFT' when dropping material.
* Autodesk FBX Importer (Static Model)
The dynamic geometry type: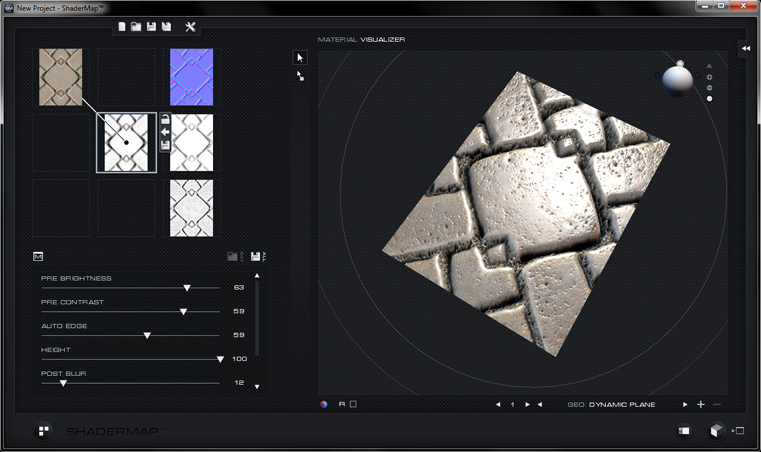 An FBX model imported to SM2: